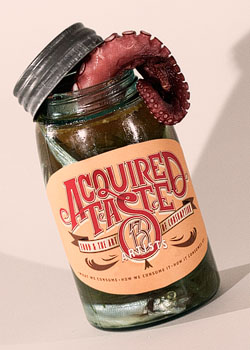 Currently on view at the Begovich Gallery at California State University, Fullerton is the exhibition 'Acquired Taste: Food and the Art of Consumption' curated by Alyssa Cordova & Heather Richards of Sickpack projects. The show runs until the 8th of December and features artists whose work focuses on food as subject matter or subtext. Of the show, the curators write, "Artists chosen highlight our reciprocal relationship to food: what we consume, how we consume it and how it consumes us.
Food is not merely nourishment; it is emblematic of who we are or who we desire to become. It has the ability to tie us to our cultural roots or divide us by delineating class, taste and status. It also acts as a social lubricant, comforting us in times of crisis or, when shared among friends, becomes a manifestation of our affection and regard for those we love.
In recent years, food and cooking have taken on new importance with the rise in popularity of cable television cooking and food shows; a growing awareness of food policy and politics, as exemplified by documentaries such as Supersize Me and Food, Inc.; and (perhaps subsequently) interest in the organic, local, green and slow food movements, as seen in the explosion of farmer's markets and community gardens. In addition, the global recession of 2008 spurred many people who would otherwise be disinclined to cook at home to do so out of economic necessity, fostering an environment where anyone can become their own at-home chef. Restaurateurs and culinary professionals have also been affected by the recession, as high rents and decreased business have necessitated a renewed DIY spirit where food trucks, progressive dining and pop-up restaurants become the newest venues for foodies of all stripes to gather and enjoy innovative forms of dining."
Accompanying Acquired Taste: Food and the Art of Consumption is a full-color catalog of the exhibition, including essays by: Nicole Caruth (Contemporary Confections) and Megan Fizell (Feasting on Art). The catalog is slated to be published in early 2012.