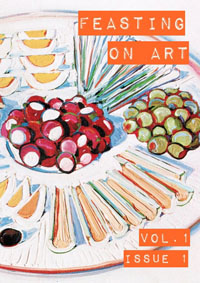 Feasting on Art Zine
Volume 1 Issue 1
The inaugural Feasting on Art zine features six pages filled with art and recipes. Hamburgers, fried chicken, tomato soup cake and donuts are a few of the delights pictured on the pages of Issue 1.
Limited edition of 20 + AP, individually numbered with machine stitched binding. A5 size. The zine is printed in full colour throughout.
All editions will be available exclusively at the Brenda May Gallery Zine Fair on August 31st and September 1st 2012. The Zine Fair is held as part of the exhibition Going Gaga with Dada curated by Akky van Ogtrop.