The review copy of Lucy+ Jorge Orta's new book Food Water Life was generously provided by Princeton Architectural Press. I have had this tome on my bedside table stack since May. It has been a pleasure to occasionally dip into the book and study the illustrations but it was not until I spotted a copy propped on the arm of one of those leather sofas with deep corners that I felt propelled to articulate this review. For the purposes of this blog, I will only be considering the first third of the book titled 'Food.'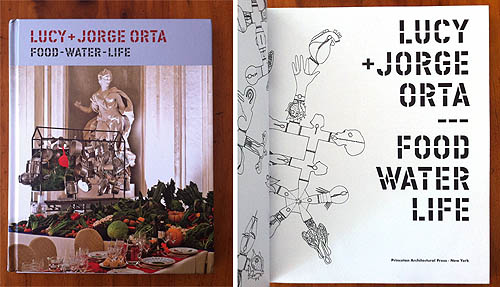 The book begins with a forward and introduction outlining the issues their body of work addresses. The married team of Lucy + Jorge Orta began their collaborative practice in 1993 in Paris under the name Studio Orta. Their projects often take the form of multimedia installations or sculptures and are coupled with a performance. Within the scope of their food projects, the Ortas use their practice to highlight famine, poverty and sustainable development.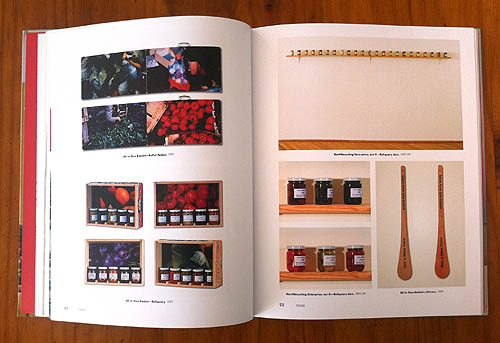 Pictured below (as well as on the front cover of the book in the first image above), '70 x 7 The Meal, act XXIX La Venaria Reale' was held in Torino in 2008 and featured a performance of the preparation of vegetable soup. Set before 150 guests, the event was to support the Andean potato research project. After the performance of preparing the soup from basic ingredients, the food was then distributed to each of the guests for them to consume at the table upon which there was an edition of 150 Royal Limoges porcelain plates and a silkscreen printed table runner.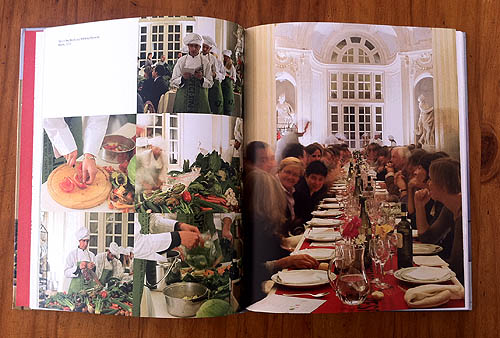 The 192 page book has full colour plates on almost every page. As a focused anthology covering almost an almost 20 year career, the book works extremely well to convey the breadth of work produced by this collaborative partnership. Whereas some artist simply depict food, Lucy + Jorge Orta truly blur the lines between food and art by transporting the simple processes found in kitchens into the gallery space as a performance.