Hello friends, it is that time of year again! I am happy to announce the opening of the 2nd annual Feasting on Art Recipe Contest to commemorate the two-year mark of this blog. Following the success of last year's contest, I decided to feature a painting of an ingredient that is near-and-dear to my heart – cheese. From cheesecake to cheese fondue, I find a way to work a bit of dairy into the majority of my favourite recipes. Between now and March 21st, submit your best cheese recipes to win a lovely cookbook and to help me celebrate another year of food & art!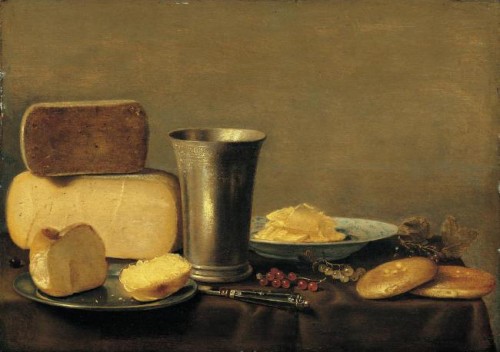 Floris Gerritsz van Schooten, A Still Life of Cheese, c.1585
oil on oak panel, 39.3 x 55.2 cm, Private collection
Contest Directions: Create an original recipe with the ingredients depicted in the still life painting A Still Life of Cheese (ingredients: cheese, bread, currants). The recipe has to at least feature cheese and you are welcome to incorporate the other two items, bread & currants, if you would like, however it is not necessary. Post the recipe on your website including the painting above and a link back to this blog post about the contest. The post title needs to state 'Feasting on Art Recipe Contest.' Once the post is live, email the following information to tresjoliestudios AT gmail DOT com with the subject line 'Entry: Feasting on Art Recipe Contest':
Name, Mailing Address, Recipe Title, URL to recipe on blog, 100 px by 100 px image of recipe
The entries will be made into a photo gallery and the picture you submit will link back to your entry post. The image order will be determined by entry date so email your recipes ASAP to be at the top of the list! Additionally, each entry will be tweeted and a roundup of all new entries will be included on the Feasting on Art Facebook page (be sure to 'Like' Feasting on Art on Facebook so your name can be tagged with your post). Contest Deadline: Monday 21st March, 2011. The winner and entry gallery will be posted on the two-year anniversary of the blog, Sunday 3rd April, 2011.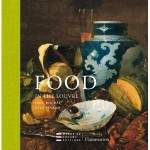 Judging/Prize: Entries will be judged on the creativity and originality of both the recipe and the photography. The winner will receive a brand new, hardcover copy of the cookbook, Food of the Louvre (Musee Du Louvre). This 80 page book is a combination of text and recipes illustrating food-themed paintings from the Museum collection. The recipes are by the Grand Louvre's chef Yves Pinard. The book is beautifully illustrated and is very interesting for anyone with an interest in food, art, or both.