Hello friends!! On April 3rd Feasting on Art will be one year old! I am very proud of this site and to celebrate I am holding a recipe competition. To perpetuate the dialogue about food and art I want to get all of my readers involved so don't be shy, even if you've never left a comment please participate! The very first painting I posted here was a still life by Renoir and it seemed only appropriate to post another of his paintings a year later. I chose a still life that could be adapted to either a sweet or savory recipe, see my posts for Strawberry BBQ Pulled Pork, Strawberry Shortcake, and Berry Vlaai for inspiration. I know that many of you are in the middle of winter so feel free to use frozen strawberries, strawberry jam or even a flavored liquor or vodka in your recipes. Also don't assume strawberries have to be the central ingredient, you could make a lot of interesting things with lemon using strawberry as an accompaniment. You can find the contest and prize details below.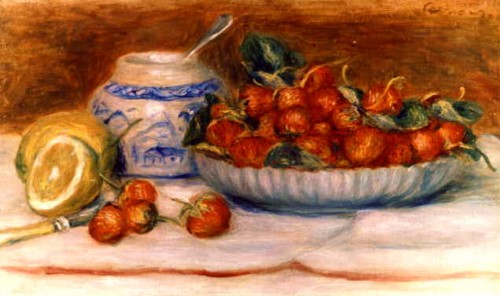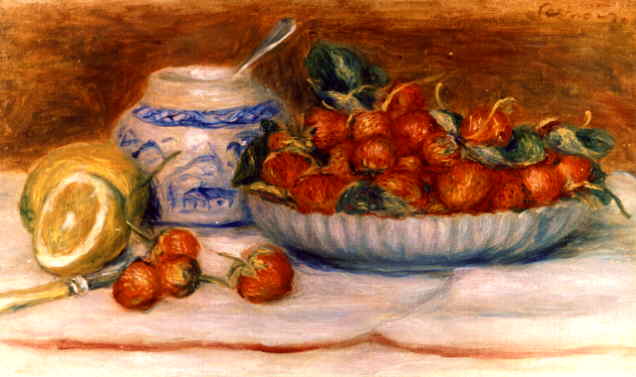 Pierre Auguste Renoir, Strawberries, 1905
oil on canvas, 46 x 28 cm, Musée de l'Orangerie, Paris, France
Contest Directions: Create an original recipe with the ingredients depicted in the still life painting Strawberries. Post the recipe on your website including the painting above and a link back to this blog post about the contest. The post title needs to state 'Feasting on Art Recipe Contest.' Once the post is live ,email the following information to tresjoliestudios AT gmail DOT com with the subject line 'Entry: Feasting on Art Recipe Contest':
Name, Mailing Address, Recipe Title, URL to recipe on blog, 100 px by 100 px image of recipe
The entries will be made into a photo gallery and the picture  you submit will link back to your entry post. The image order will be determined by entry date so email your recipes ASAP to be at the top of the list! Contest Deadline: Saturday 27th March, 2010. The winner and entry gallery will be posted on the one year anniversary of the blog, Saturday 3rd April, 2010.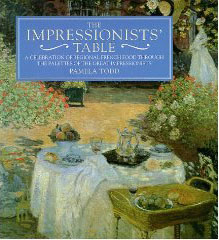 Judging/Prize: Entries will be judged on the creativity and originality of both the recipe and the photography. Get  experimental, don't limit yourself to only sweet recipes because the painting depicts fruit. Pending availability, the winner will receive the cookbook The Impressionists' Table: A Celebration of Regional French Food Through the Palettes of the Great Impressionists by Pamela Todd.
Best of luck to all of the contestants – I cannot wait to see the great art inspired recipes!