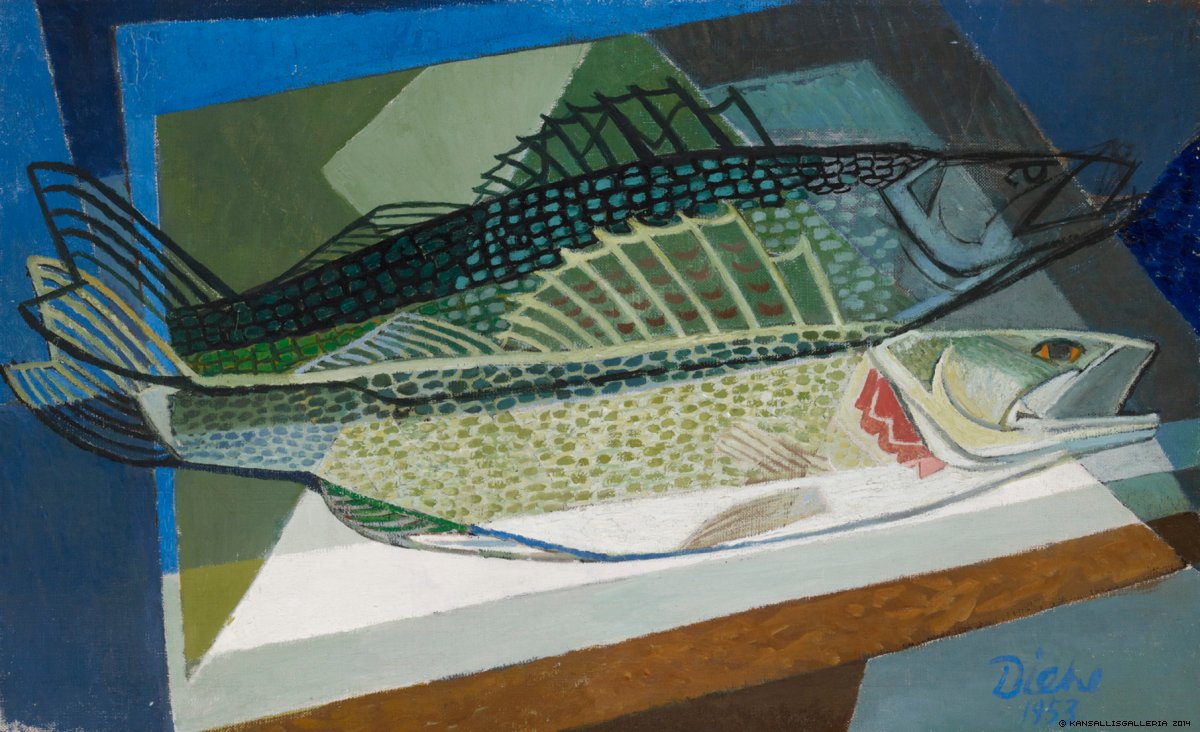 Gösta Diehl, Still Life with Fishes, 1953
Collection of Finnish National Gallery
The Finnish artist Gösta Diehl was active in the first half of the 20th century and was known for his use of vivid colour in his paintings often composed in a cubist style.
In July 2015, I travelled to Helsinki, Finland to spend a week in the studio of artist Elizabeth Willing while she was a resident at (HIAP) Helsinki International Artist Program. While in Finland, Willing refocused her practice on foodstuffs in their natural form; berries, plants, and produce foraged from the landscape.
Artwork from this residency alongside pieces produced during Willing's residency at Kunstlerhaus Bethanien in Berlin will be featured in her upcoming exhibition at Spiro Grace Art Rooms in Brisbane. More information HERE.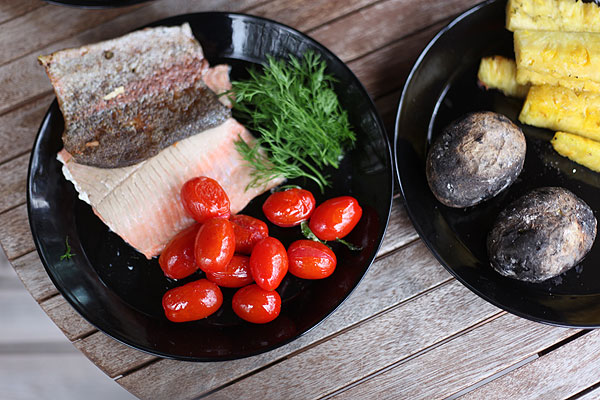 [Pan-fried Finnish Salmon and Tomatoes with Fresh Dill & Basil, and Charred Baked Potatoes]
This recipe was cobbled together with Elizabeth Willing while staying at a small lakeside cottage in Mikkeli, Finland.
Yield: 2 servings
4 medium sized potatoes
1 tablespoon vegetable oil
1 salmon steak
1 punnet of cherry tomatoes (or other small tomatoes)
handful of fresh dill and basil (to taste)
salt and pepper to serve
Stock the outdoor oven and light a small fire. Feed the fire and continue to burn timber until you have a nice bed of coals. Nestle the potatoes around the edges of coals and rotate them throughout the cooking time, generally around 20-30 minutes depending on size of potato.. The outside skin will become charred, allow this to happen. The potatoes are done when a knife can easily slip into the centre. To eat, cut the potatoes in half, sprinkle generously with salt and scoop out the insides. Discard the charred skin.
Before cooking, sprinkle the skin of the salmon generously with salt. In a cast iron pan positioned over the hot coals, add the oil and allow it to heat up for a couple of minutes before placing the salmon skin-side down in the pan. Cook the fish for around 5 minutes skin-side down before flipping. Once the salmon has been flipped, add the tomatoes to the pan surrounding the fish. Cook the salmon for another 5-7 minutes depending on size and thickness. Remove the fish from the pan and continue to cook the tomatoes until they blister. Toss the tomatoes with fresh basil. Should you wish, the skin can be removed from the salmon and cooked longer over the coals on a metal grate. This yields an incredibly crispy skin that shatters when bitten. Top the salmon with fresh dill and serve with the blistered tomatoes and charred potatoes.