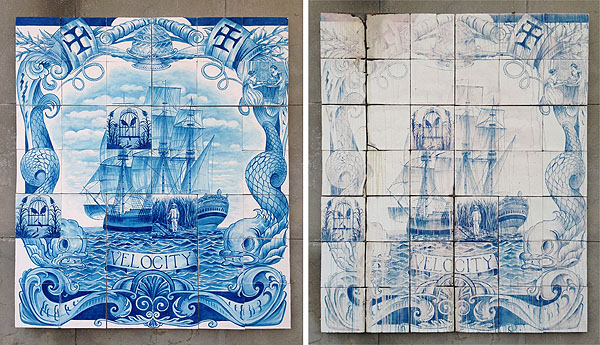 Shelley Miller, Velocity, 2013 (left: day 1, right: day 29)
sugar, edible cake decorating inks, 120 x 102.5cm
+ VIEW: Today is the last day to view Shelley Miller's sugar mural Velocity on the facade of the 2 Danks building. Velocity was part of Sugar, Sugar at Brenda May Gallery and has been slowly disintegrating since it was installed on 1 October 2013. The mural depicts the history of the Australian sugar trade and features the ship named Velocity – a blackbirding vessel.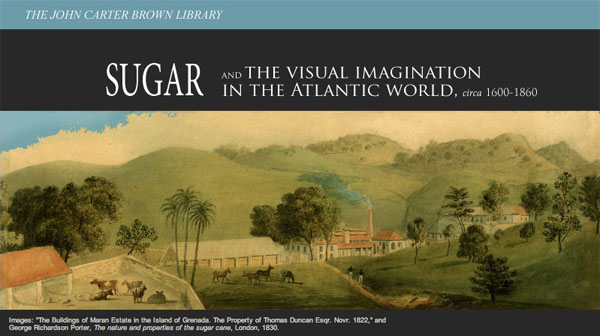 + VISIT: Now on view at the John Carter Brown Library is the exhibition Sugar and the Visual Imagination in the Atlantic World. Curated by K.Dian Kriz, the show features imagery and works from circa 1600-1860 providing an historic look at the sugar industry in the Americas. "In this exhibition, visitors are invited not simply to look "through" the images on display to apprehend their subject matter, but rather to examine the images as representations, which depend upon conventions and genres specific to the realm of visual culture and to the historical moment in which they were produced." The show is on view in the reading room from September 2013 through December 2013.
+ READ: The exhibition catalogue for The Sweet and Sour Story of Sugar is now available to purchase from Noorderlicht. The book illustrates the work of six photographers who travelled to Brazil, Indonesia, The Netherlands and Suriname to document and record the sugar industry. Their images are "interwoven with historical records and in-depth essays, developing themes ranging from migration, slavery, health issues, energy policy, labour conditions, environmental issues and trade." The hardcover book can be purchased from here for EUR 44,50.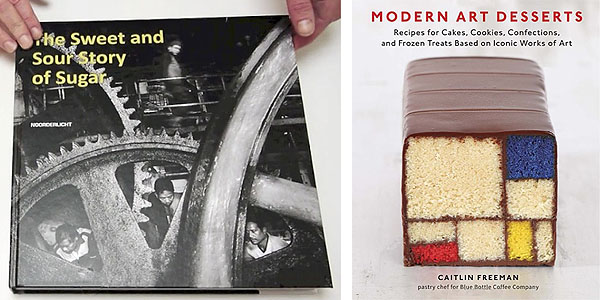 + COOK: Caitlin Freeman, the pastry chef at the cafe in the San Francisco Museum of Modern Art, has come out with a cookbook titled Modern Art Desserts featuring a slew of recipes inspired by famous works of art. Much like the way this blog operates, Freeman visually adapts paintings and prints to create edible interpretations of the artwork. Artists in the cookbook include Andy Warhol, Frida Kahlo, Matisse and Mondrian.