The Sugar, Sugar exhibition will be installed at Brenda May Gallery in about three weeks and in the lead-up to the show, I will be sharing a selection of the work that will be on view. You can see Mylyn Nguyen's carved sugar cube in the current issue of Vogue Living.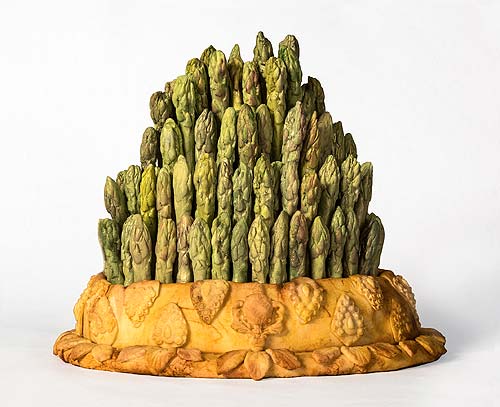 Janet Tavener, Asparagus Pie, 2013
sugar paste, food colouring, 23 x 25 x 30 cm, Brenda May Gallery, Sydney
This is the second time that Janet Tavener's work has appeared on the blog. The first post, featuring the resin jelly mould sculptures gives a bit of context to Tavener's practice. After a residency in 2010 at Vaucluse House in Sydney (an historic 19th-century estate), Tavener began her investigation into Victorian dining. Her sugar paste sculptures in Sugar, Sugar will depict the typical dishes served at a Victorian banquet. Each 'dish' is throughly researched with moulds and implements sourced from round-the-world. Referencing the royal sugar sculptures of the late 18th/early 19th century, the Asparagus Pie is comprised of 98 individually formed sugar paste asparagus. Tavener then hand painted each one with food colouring before assembling the sculpture.
While I started sifting through recipes looking for ideas for an asparagus pie, I came across two recipes I posted in 2011 that encapsulated what I wanted to make for this post. Rather than make another recipe that ended up looking and tasting similar to dishes already featured, please visit the posts in the archive for the two recipes illustrated above.
Left: Soufflé Edged with Asparagus
Right: Semi-Dried Tomato & Asparagus Quiche
Janet Tavener's Asparagus Pie can be viewed at Brenda May Gallery starting on Tuesday 1 October as part of the curated exhibition Sugar, Sugar.