The Sugar, Sugar exhibition catalogue is now complete and available for purchase. The 20 page book is available for $5 + postage and if you are interested, please send me an email (mfizell AT gmail DOT com). Payment accepted via paypal only. Alternatively, a digital copy can be purchased for AUD $3 from Payhip.
In addition to full colour reproductions of the artworks featured in the exhibition, the catalogue features three essays about sugar in art. I wrote an essay titled Performative and Interactive Aspects of Sugar in Art looking a the broader historic scope of the topic and works by Janine Antoni, Karen Finley, Félix González-Torres, Jennifer Rubell, Ed Ruscha, and one of the exhibition artists, Elizabeth Willing. The other essays are by curators Olivia Welch and the Berlin-based Cassandra Edlefsen Lasch who focused their writing on the artists and artworks of the exhibition. Welch's essay, Sweet Sense, considers Judith Klausner's 'Oreo cameos', Irianna Kanellopoulou's chocolate sculptures and Mylyn Nguyen's cotton candy animals within the context of synesthesia. Edlefsen Lasch rounds out the essays with her piece, Speciousness, thy name is Sugar!, about the ephemeral nature of the work. Her essay covers the performance piece by Matina Bourmas, the icing silhouettes of Stephanie Jones, Shelley Miller's sugar mural and the new film by Claire Anna Watson created specifically for the exhibition.
A big thank you to Olivia and Cassandra for contributing their beautiful essays and for Karen Carmichael who edited the entire catalogue. Also, thank you to Brenda May whose support and encouragement made this entire project possible.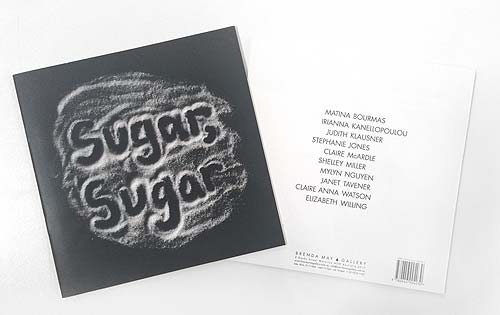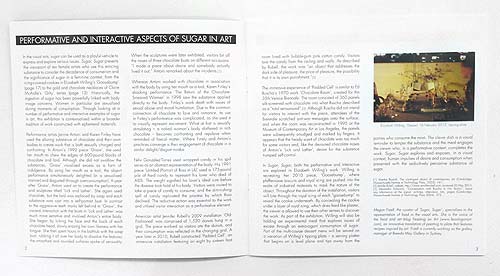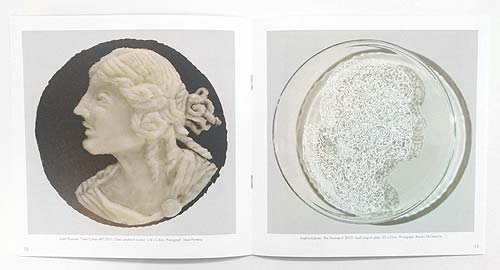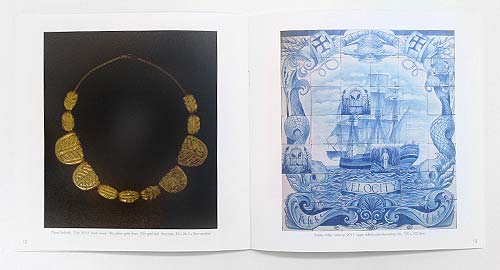 Read all posts related to this exhibition here and follow along on Instagram with the hashtag #sugarsugar2013.
Also of note:
Irianna Kanellopoulou's chocolate sculptures will be on view in Sugar, Sugar in October but you can catch her new ceramic work on currently on view at Brenda May Gallery until Saturday 7 September.
Claire McArdle is currently exhibiting two pieces from her 'Gilty' series in the exhibition Earth to Earth, Ashes to Ashes curated by Bridget Kennedy at Studio 20/17 on view until Saturday 24 August.
Janet Tavener won the 2013 North Sydney Art prize for photography with her work 'Strange Fruit'. Janet exhibited her melting ice sculptures in the 2012 Art + Food: Beyond the Still Life exhibition and she will also be in Sugar, Sugar with her sugar paste sculptures.
The chocolate bunnies by Irianna Kanellopoulou in Art + Food: Beyond the Still Life were finally eaten when Irianna was up for her solo exhibition. Photo evidence here.