I am pleased to announce that I will be curating a second art + food exhibition in October at Brenda May Gallery. We are now accepting proposals from professional practicing artists so please read the exhibition brief below and contact the Gallery with any questions or visit the submissions page for further details. In conjunction with the exhibition, I will be producing a 20-page catalogue illustrating the artworks selected for the show as well as a short essay.
'Sugar, Sugar' – 1 to 19 October 2013
As a species, we are predisposed to seek out sugar to supplement our diet. "Sweet tooth" and "sugar rush" are colloquial phrases used to describe our bodies' cravings for and reaction to the substance. Our inclination to seek out the sweet stuff speaks to the pervasiveness of sugar in the visual arts. This exhibition will feature contemporary art made exclusively with sugar.
Proposals for this show must be received by Friday 5 April 2013.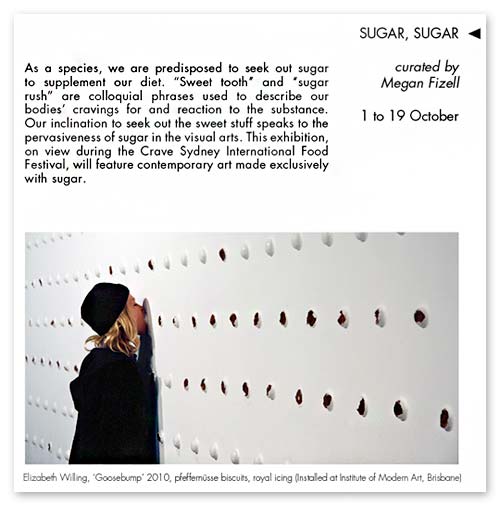 Read all posts related to this exhibition here and follow along on Instagram with the hashtag #sugarsugar2013.