The deadline for artist proposals is fast approaching with a little more than 2 weeks left. Submit your info to Brenda May Gallery before Friday 27 July 2012 to be considered for inclusion in Art + Food: Beyond the Still Life.
We have a great list of artists already confirmed for the show including Will Coles, Liz Deckers, Michael Edwards, Stuart Elliott (courtesy Turner Galleries, Perth), Sara Field (courtesy Michael Reid Gallery, Sydney) James Guppy, Al Munro, Will Nolan, Vin Ryan (courtesy of Anna Pappas Gallery, Melbourne), Sue Saxon and Jane Becker, Robyn Stacey (courtesy Stills Gallery, Sydney), Janet Tavener, Christine Turner and Ken + Julia Yonetani (courtesy Artereal Gallery, Sydney).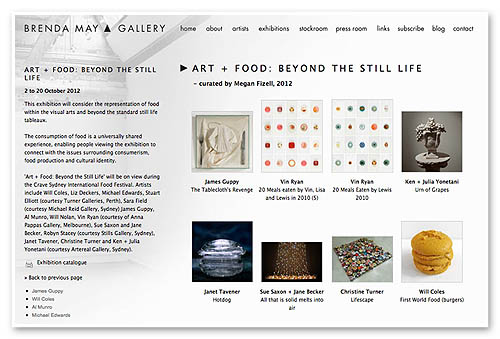 Artworks range from sculptures of fruits made of Murray River salt to a 2.5 metre installation of biscuit tins collected over a 15 year period. We will be installing the etherial eggshell work by Sue Saxon and Jane Becker titled 'All that is solid melts into air' which was originally exhibited at the TarraWarra Museum of Art in Victoria. Check out the website to see a selection of the work slated for the exhibition.