The past two years have contained a lot of changes; two new jobs, a new apartment and the start of my life here in Australia. The first entry on this blog was posted only one month after I moved to Sydney. I was unemployed and living in a different city with few friends and a family in another hemisphere. In the beginning, this blog filled the gaps in my life and along the way, I have gathered an incredible group friends and a career that has left me fulfilled and happy. Feasting on Art has been my constant and I hope that I have somewhat conveyed the importance of this space in my life.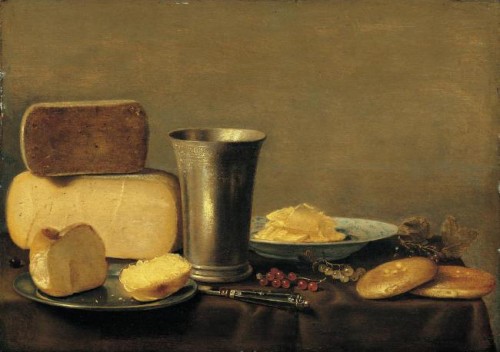 Floris Gerritsz van Schooten, A Still Life of Cheese, c.1585
oil on oak panel, 39.3 x 55.2 cm, Private collection
With this in mind, I would like to thank all of the participants in the 2nd recipe contest (including my mom and cooking mentor, Cassie). The decision was difficult which attests to the caliber of the entries. After acquiring a number of second opinions, I am delighted to announce the winner is Deana of lostpastremembered. Her recipe for cheese toasties with chipotle, dijon mustard and rum was a compelling twist on one of my standard comfort foods. Her presentation was faithful to the moody lighting of the dark still life paintings from the Dutch Golden Age and as a history focused blog with a number of posts about art, this book will be put to good use by Deana. Congratulations Deana and thank you again to everyone for submitting a recipe.
{Recipe Contest Entries}
Garlic Blue Cheese Honey-Drizzled Bruschetta by Jenn of My Kitchen Kreations To You
Apple and Havarti Quesadilla by Tracy of Tracy's Living Cookbook
Peppered New England Thyme Fondue by Annaliese of Following the Path
Artisan Grilled Cheese Sandwich by Parke of Cooktestant
Flat Bread with Blue Cheese, Currants & Thyme by Eliot of Eliot's Eats
Cheese Toasties for Two by Deana of lostpastremembered
Caramelized Red Onion and Gorgonzola Souffle by Sasha of Paper Doll Parade
Fig Jam and Blue Cheese Tart with Honey Buckwheat Crust by Lael of One Hungry Soul
Parmigiano Custard with Caramelized Onions by Steve & Judith of Electric Lace