I am honored and excited to be included on the Design*Sponge website as part of the 'In the kitchen with…' series. I had several recipe ideas, bookmarked and filed away for a very special post, and was delighted when my recipe for a pear tart with whiskey cream was selected as it was inspired by one of my favorite still life artists. Hopefully the short description I sent with the recipe will tempt you to visit the Design*Sponge page to take a look at the pear tart with whiskey cream.
Combining the ingredients in Tom Wesselmann's 'Still Life #2' was a natural
marriage, the dark molasses flavours of the whiskey compliment the subtle
sweetness of the pear with the toasty hints in the liquor mirrored in the toasted
hazelnuts of the crust. Cinnamon and ginger continue the warming flavour
palette and provides a sharp-spiciness to the tart – the perfect foil to the cooling
whiskey cream, speckled with vanilla seeds.
I would like to welcome all of the new readers arriving from Design*Sponge. I hope you take a bit of time and explore the site. You can find the entire listing of recipes here and if you are curious about the type of art you can find among the pages of this blog, then head on over to the art index and click on the images that catch your eye.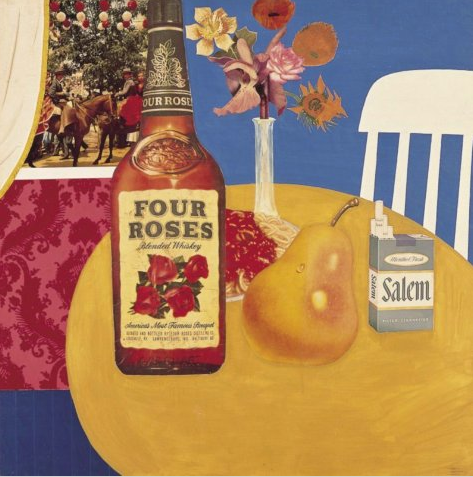 Tom Wesselmann, Still Life #2, 1962
oil and collage on board, 121.9 x 122.2 cm, Norton Simon Museum
The American Pop artist, Tom Wesselmann, was concerned with consumerism during the postwar era and created a distinct collage style of found art collage. He began working with images from magazines and posters but as his work increased in scale, he looked skyward to acquire used billboard signs. Wesselmann disliked his inclusion in the Pop Art movement because he was less concerned with critiquing  aspects of consumerism and instead focused on the aesthetic use of the everyday. A number of elements in Still Life #2 have been cut and pasted including the bouquet of flowers in the center of the frame.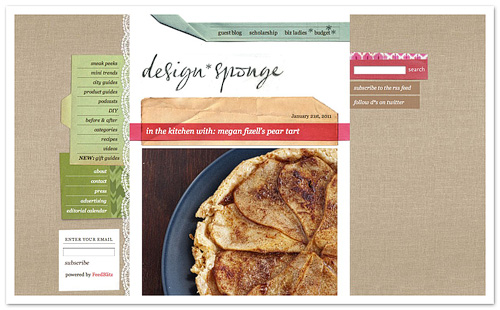 Click here to view the pear tart with whiskey cream recipe on Design*Sponge.