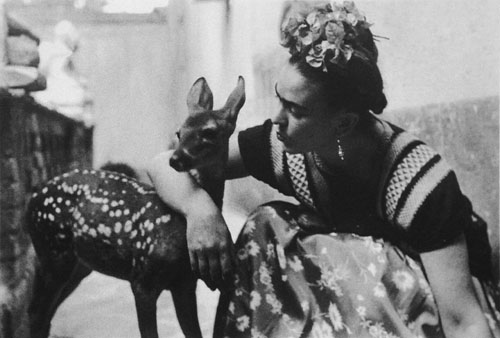 Frida Kahlo and her pet deer, Granizo, 1939, photograph by Nickolas Muray

In the book Frida's Fiestas, Kahlo's step-daughter Guadalupe Rivera reminisces about unpacking the groceries with Frida after a visit to the market,
"At one point she said to me: 'Look at this watermelon…! It's an amazing fruit. On the outside, it's a wonderful green color, but on the inside, there's this strong and elegant red and white. The pitaya is a bright red, like a pomegranate sprinkled with black dots. Then there's the pitahaya. It is fuchsia on the outside and hides the subtlety of a whitish-gray pulp flecked with little black spots that are its seeds inside. This is a wonder! Fruits are like flowers: they speak to us in a provocative language and teach us things that are hidden." (p.24)
Kahlo later arranged these fruits into a still life painting titled The Bride Frightened at Seeing Life Opened. For her life and art intermingled, she decorated her table and her tresses with fruits and flowers in the same way they were scattered across her canvases. Like the fruit, her art teaches us – the viewers – about her hidden things, thoughts, fears, and emotions.
This is the fifth and final entry in a series of posts examining the the still life paintings by Frida Kahlo. Click the paintings above or the recipe links below to visit the individual posts for more information about Frida.

{Frida Kahlo's Menú Festivo}
appetizer
Shellfish Ceviche
bread
Jalapeño Cheddar Cornbread
salad
Pico de Gallo
main
Roasted Chicken with Pumpkin Mole
dessert
Coconut Milk Ice Cream with Caramelized Papaya & Lime