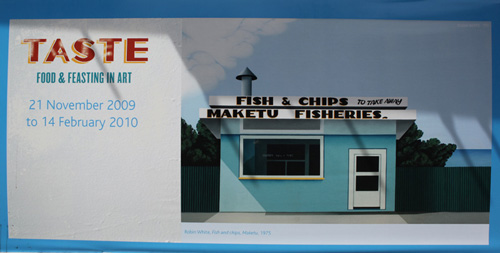 The representation of food has always had a presence within the realm of the visual arts. The survey show, Taste: Food and Feasting in Art, explores the genre with an assortment of pieces from sculpture to painting to photography all from the Auckland Art Gallery collection. The usual suspects are all present – Warhol with his soup can, Brueghel's festive village feast, and even Picasso makes an appearance in the cafe photographs of Brian Brake. Interspersed between the opulent banquets of the European still lifes and the delicate Japanese woodblocks are unique and interesting artworks by both Kiwi and indigenous artists. Take for example Cook Island Māori Ani O'Neill's Fresh Eke (Eke nui and babies), a commanding sculpture of a giant octopus made from crocheted wool and filled with recycled plastic water bottles. The Eke is a common reef octopus from the Cook Island and a staple of the Māori diet. The sculpture not only celebrates the Māori culture but simultaneously draws attention to the human impact on the environment.

Left: Fish & chips, designed and produced by Clemenger BBDO and Weta Workshop for Radio New Zealand, 2008, Mixed media soft foam and urethane, 20 x 50 x 45 cm.
Right: Fresh Eke (Eke nui and babies), Ani O'Neill, 2003-4, Wool
A theme running throughout the show demonstrates the importance of fishing and sea fare to the economy, culture, and diet of the people living in New Zealand. Works range from the photographs documenting traditional preparation to a large painting by Dick Frizelle referencing consumer packaging via the enamel finish on the board. Both the British influence and the Māori culture are represented by fish – the sculpture by Clemenger BBDO and Weta Workshop is the gastronomically English fare of fish and chips in the form of a radio. The shape of the fish is taken up by the artist Robert Jahnke in the installation Koha made of steel pins and chocolate fish. Koha has its basis within Māori values and denotes a gift. The actual chocolate fish that compose the work are available for the viewer to consume and act as a parting gift at the end of the exhibition.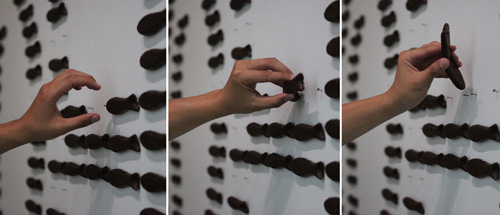 Koha (detail), Robert Jahnke, 1998, steel pins and chocolate fish
The sharing of food is a communal behavior similar to the way art acts as a forum for dialogue. Working together, both food and art serve to depict specific cultures and lifestyles – which is fitting because, ultimately, we are what we eat. Taste: Food and Feasting in Art is available to view at the Auckland Art Gallery until February 14th. The price of admission is $7 (with a free chocolate fish!).